Morphik Chip & Dip
Exclusively ours
Promotions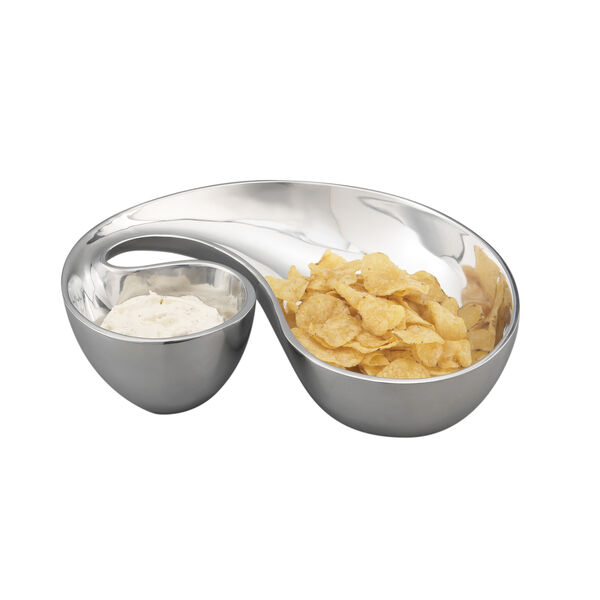 You Might Also Like
MT0253
Details
https://www.nambe.com/designers-karim_rashid/MT0122.html
Description
This eye-catching Nambé exclusive combines flared chip bowl and round dip bowl into a single serving piece of striking artistry. A perfect entertaining accessory, the Morphik Chip and Dip features the curving shapes nature favors.
Made of Nambé Alloy
14" L x 12.5" W x 3.75" H
Hand wash; dry immediately
Designed by Karim Rashid
This item is exclusive to Nambé
Specifications

Designer:

Karim Rashid

Year Designed:

2009

Collections:

Morphik

Decor Style:

Modern

Oven Safe:

no

Dishwasher Safe:

no

Online Engraving:

no

Limited Edition:

no

Material Type:

Nambé Alloy

Online Exclusive:

no

Care & Use:

Alloy

About The Designer

Nambé is pleased to offer an extensive collection of Karim Rashid's creations in metal, crystal and lighting. Rashid's fresh, beautiful and highly collectible Nambé illustrate our dedication to great design. He has been designing for Nambé since 1992.

Less than ten years after opening his studio in New York, Karim Rashid stands among the contemporary masters of design. Rashid works in architecture, interiors, fashion and furniture. He is also a sculptor, painter and ceramist with a number of prestigious one-man shows and exhibits to his credit.

Rashid was born in Cairo, Egypt and grew up in England and Canada. He earned a degree in industrial design from Carleton University in Ottawa, and next studied design in Italy. His work has won more than 50 design awards and has been exhibited by or acquired for the permanent collections of MoMA, the British Design Museum, Toronto Design Exchange, MoMA of San Francisco and the Philadelphia Museum of Art.

In 2001, Rizzoli published I Want to Change the World, a monograph on Rashid's life's work.
You Might Also Like
MT0253