Fiona 5-Piece Place Setting
Promotions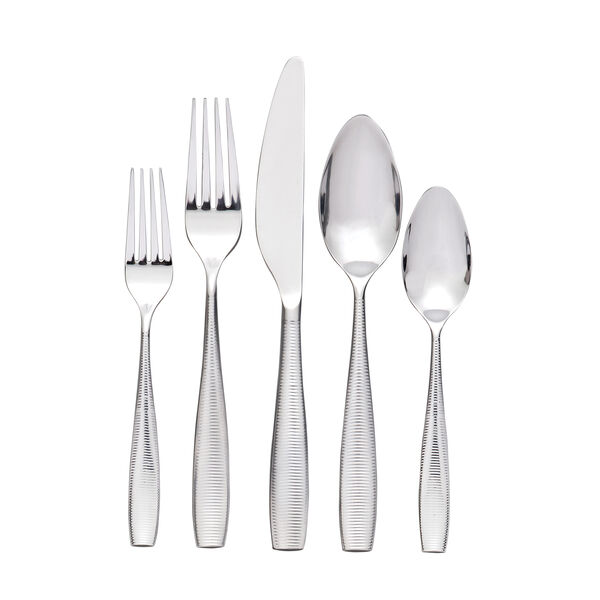 Details
https://www.nambe.com/shop-dining-place_settings/7541.html
Description
The subtle yet distinctive horizontally ridged design on the handle is the first thing you notice when you pick up a fork, knife or spoon from the Fiona 5-piece Place Setting. It's a design detail that feels modern and self-assured, lending the set a refreshing personality that works beautifully with contemporary décor, tropical themes, and upscale spaces with abundant greenery. The balance of the smart handles with the lovely, lean lines of the operational side make this set a standout.
Forged of 18/10 stainless steel
Includes salad fork, dinner fork, dinner knife, soup spoon and teaspoon
Dishwasher safe
Designed by Lou Henry
Specifications

Designer:

Lou Henry

Year Designed:

2011

Oven Safe:

no

Flatware Set Type:

5-piece

Dishwasher Safe:

Yes

Online Engraving:

no

Limited Edition:

no

Material Type:

Stainless Steel

Online Exclusive:

no

Care & Use:

Stainless Steel

About The Designer

Lou is the creative force behind A2, Inc., a product development firm based in New York City.

A2 has been designing products to meet the demands of everyday living for the last 25 years. They have won numerous design awards & recognitions, including IDEA Gold awards, Good Design awards, a Top Ten IF award in Germany, and Time Magazine's Top Ten Designs. Lou's work can be seen in the permanent collections of a number of museums such as The Chicago Athenaeum and MOMA in New York. A2 is named on hundreds of utility and design patents.

Having earned a degree in industrial design from Carnegie Mellon University, Lou has since been busy putting his personal touch on an endless stream of products and developing entire brands from the ground up. His work is characterized by unique solutions and a relentless pursuit of simplicity.