Braid Serving Bowl - 8"
Promotions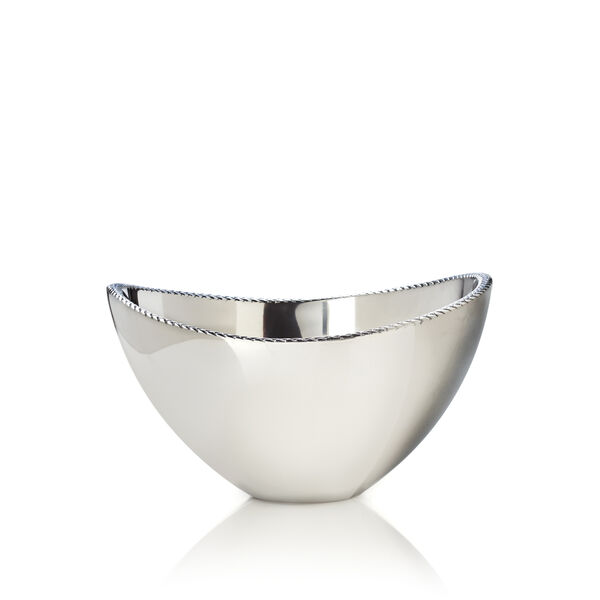 You Might Also Like
MT0636
Details
https://www.nambe.com/shop-serveware-bowls/MT0631.html
Description
The intricate braid on the rim of the Braid Serving Bowl adds an irresistible touch of style. Set it out and watch how the pattern picks up the light, and how the lovely texture and lilting shape draws people to it. This piece can be warmed or chilled before serving.
Made of Nambé Alloy
1.5 qt.
8.25" W
Hand wash; dry immediately
Designed by Sean O'Hara
Specifications

Designer:

Sean O'Hara

Year Designed:

2013

Collections:

Braid

Oven Safe:

Yes

Dishwasher Safe:

no

Online Engraving:

no

Limited Edition:

no

Material Type:

Nambé Alloy

Online Exclusive:

no

About The Designer

Sean is an award winning designer, sculptor and furniture maker. His sensuous forms are meticulously shaped by hand, illustrating his sculptural approach to developing his designs and underlining his mastery of numerous materials.

Sean graduated in 1996 from Rhode Island School of Design. Following RISD he pursued graduate design studies in Vienna, Austria. He was then recommended for his first job designing for a Danish studio. It was there he absorbed the nuance and rich theory of modern Scandinavian design. He began his own studio in NY in 2002 designing with Nambe.

Sean O'Hara's keen aesthetic sensibility and clear understanding of natural form make his handmade designs as appealing to the eye as they are to the touch.
You Might Also Like
MT0636