Square Platter - 11"
Promotions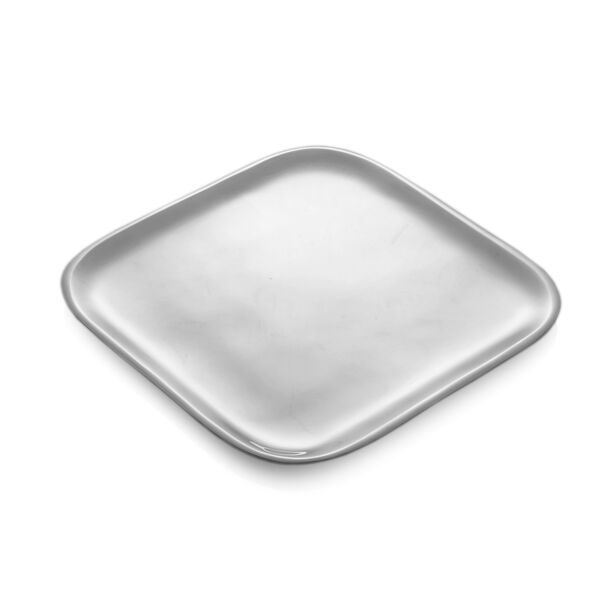 You Might Also Like
511
612
MT0589
Details
https://www.nambe.com/shop-serveware-trays/555.html
Description
Nambé's Square Platter, a Richard K. Thomas design, in 1956 became the first Nambé piece recognized by New York's Museum of Modern Art and is now in its permanent collection. Even more impressive: you can cook a steak on it. Made with Nambé's unique, signature metal alloy, this tray can withstand extreme heat, on top of the stove or in the oven. It retains the heat, too, making it an excellent platter for serving sizzling fajitas, spanakopita, or myriad other entrees and finger foods. It's equally useful chilled; just place it in the freezer until you're ready to serve. Try it for chilled shrimp or melon skewers. It's an undeniable combination of pedigree and utility.
Made with Nambé Alloy
11" square
Hand wash
Design Recognition: Museum of Modern Art Permanent Collection, New York
Introduced 1956
Specifications

Designer:

Nambé

Year Designed:

1956

Museum Name:

Museum of Modern Art

Musem Location:

New York, NY

Decor Style:

Mid-Century Modern

Oven Safe:

Yes

Dishwasher Safe:

no

Online Engraving:

Yes

Gift Type:

Anniversary, Wedding, For Her

Limited Edition:

no

Material Type:

Nambé Alloy

Online Exclusive:

no

Care & Use:

Alloy

About The Designer

Nambé's passion for exceptional design began in 1951, and was inspired by the discovery of our proprietary alloy material. Since then, Nambé's has been combining fine materials with hand craftsmanship and design from the world's most esteemed designers. Each Nambé piece must possess timeless beauty, artistic integrity, uncompromising quality, and function beyond compare. Nambé is a family-owned company recognized worldwide for its award-winning designs, and admired for its dedication to both artistic integrity and everyday functionality.

Nambé transcends trends and generations with mid-century modern design tailored to today's consumer. We enhance lives with product that emotionally connects, quality that inspires, and a brand that shares in the lifestyle aspirations of our customer, whether formal or casual.

Nambé is art designed for everyday living.
You Might Also Like
511
612
MT0589