Reindeer Collection
Todd Myers
Promotions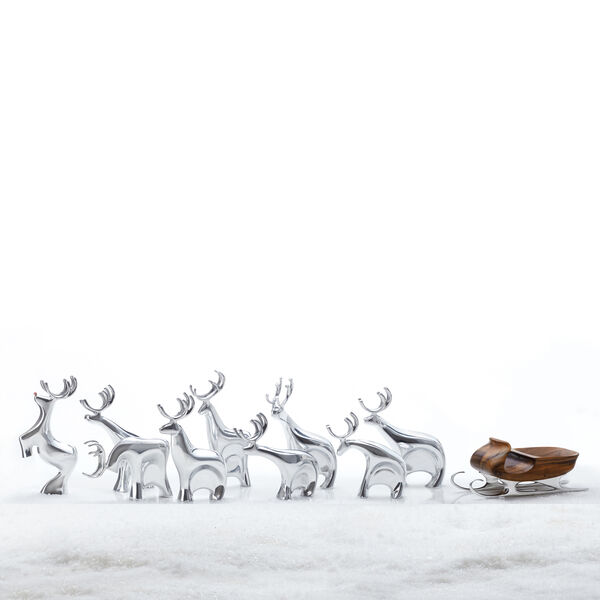 You Might Also Like
MT0879
5163
https://www.nambe.com/shop-decor-holiday/MT0910.html
Description
Ready to depart on their annual sleigh ride at a moment's notice, this whimsical set of Santa's 9 reindeer captures the season's feeling of hope and joy. A beautiful compliment to existing décor, the ten-piece Reindeer Collection fits perfectly on a coffee table or fireplace mantel, adding instant sparkle and fun to your home for the holiday.
Made of Nambé Alloy, Acacia Wood
Sleigh: 11.5" L x 3.25" H
Red-Nosed Reindeer: 9.5" H x 5.25" L
Reindeer: longest is 7" L, tallest is 10" H
Wipe clean with dry cloth
Designed by Todd Myers and Alvaro Uribe



This comprehensive set contains items MT0593, MT0133, MT0384, MT0385
This item cannot be gift wrapped due to size
Specifications

Designer:

Todd Myers

Year Designed:

2009

Oven Safe:

no

Dishwasher Safe:

no

Online Engraving:

no

Limited Edition:

no

Material Type:

Nambé Alloy

Online Exclusive:

no

About The Designer

Todd Myers served as Director of Design at Nambé from 2005 to 2008, working with our esteemed designers to create new works of beauty and function, as well as developing his own award-winning product for the Nambé brand. Myers' background is design, holding a degree in industrial design from the University of Cincinnati.

A sculptor at heart, Myers is consumed with form, and his designs are definitely "hands-on." Myers approaches design through an intense immersion on how an object should speak to the observer and user through form, materiality, and functionality.