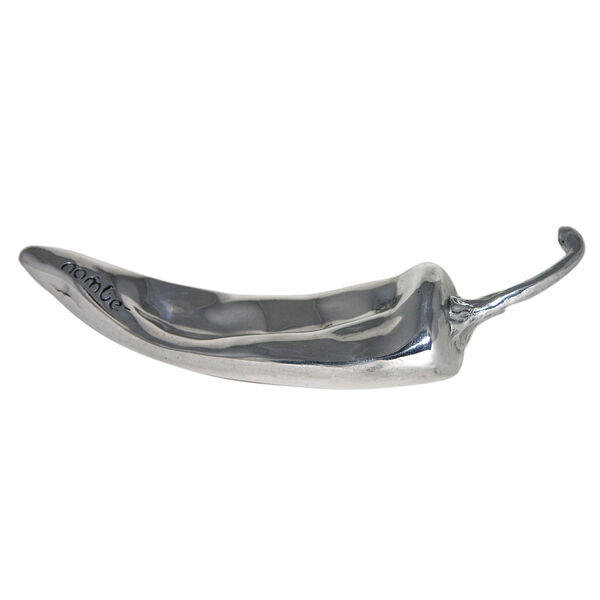 You Might Also Like
MT0253
569B
Details
https://www.nambe.com/shop-decor-more/8911.html
Description
Never too strong or too bland, our Nambé Chili always adds just the right amount of zest to a sunny kitchen windowsill or desktop pile of papers. As chili aficionados know, New Mexico is famous for its red and green peppers, so it seems only fitting that another New Mexico institution, Nambé, should produce its own variety. Ours is realistically sand-cast of our own metal alloy and hand-polished to a sizzling sheen. Just to toot our own horn a bit, we emblazon our name on the tip. Give the pepper person in your life extra spice with this 6-inch beauty, and keep one for yourself. It just might be the beginning of a beautiful gastronomic friendship.
Specifications

Designer:

Nambé

Decor Style:

Mid-Century Modern

Oven Safe:

no

Dishwasher Safe:

no

Online Engraving:

no

Limited Edition:

no

Material Type:

Nambé Alloy

Online Exclusive:

no

Care & Use:

Alloy

About The Designer

Nambé's passion for exceptional design began in 1951, and was inspired by the discovery of our proprietary alloy material. Since then, Nambé's has been combining fine materials with hand craftsmanship and design from the world's most esteemed designers. Each Nambé piece must possess timeless beauty, artistic integrity, uncompromising quality, and function beyond compare. Nambé is a family-owned company recognized worldwide for its award-winning designs, and admired for its dedication to both artistic integrity and everyday functionality.

Nambé transcends trends and generations with mid-century modern design tailored to today's consumer. We enhance lives with product that emotionally connects, quality that inspires, and a brand that shares in the lifestyle aspirations of our customer, whether formal or casual.

Nambé is art designed for everyday living.
You Might Also Like
MT0253
569B