Tree of Life Menorah
Promotions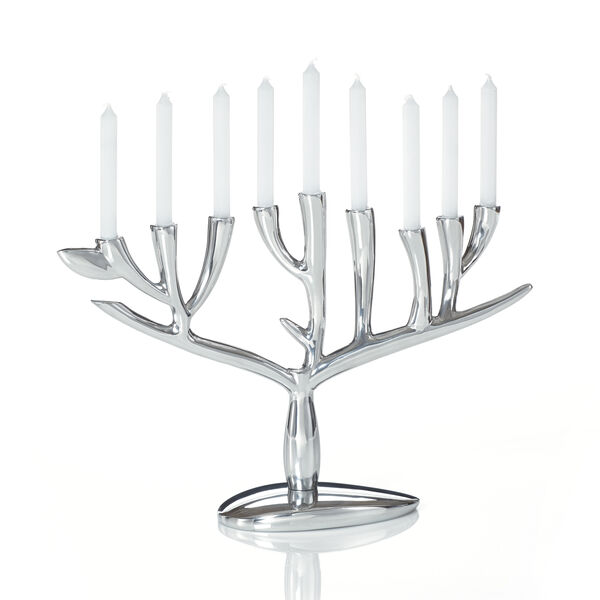 You Might Also Like
MT0670
MT0671
Details
https://www.nambe.com/shop-gift-center-judaica/MT0604.html
Description
Celebrate Hanukkah with this wonderfully stylish menorah. This handsome piece embodies the modernist embrace of clean, straightforward shapes and lines, while echoing more traditional depictions of the iconic symbol. The Tree of Life Menorah is destined to be treasured for generations to come.
Made of Nambé Alloy
13.5" L x 3.3" W x 9" H
Chill in freezer to harden wax drips for removal
Designed by Marilyn Davidson
Candles not included
Specifications

Designer:

Marilyn Davidson

Year Designed:

2013

Decor Style:

Modern

Oven Safe:

no

Dishwasher Safe:

no

Online Engraving:

no

Gift Type:

Hanukkah

Limited Edition:

no

Material Type:

Nambé Alloy

Online Exclusive:

no

Care & Use:

Alloy

About The Designer

Marilyn Davidson's work as an internationally recognized artist and designer includes sculpture and design for the home. She taught design at Syracuse University and as a visiting lecturer in England and Italy. Numerous international exhibitions of her work have been held in New York, Germany, England, Yugoslavia, Australia, and Mexico, and her work has been represented and reviewed in Interior Design Magazine, The New York Art Review, and Arts Magazine.

Her designs are represented in the permanent collections of the Metropolitan Museum of Art, Twentieth Century Collection, the Victoria and Albert Museum, London, the Herbert F. Johnson Museum of Art, the Munson-Williams-Proctor Institute, the Everson Museum of Art and numerous others.
You Might Also Like
MT0670
MT0671